In the world of rum production, quality is a natural result of age-old experience, distilling and aging of this fine beverage. Demerara Distillers has all these priorities, plus the unique opportunity to produce the best rum in the world.
For this purpose, it retains the traditional methods and standards of an old industry, combined with modern technology. The company is the sole manufacturer of world famous Demerara Rum, whose name comes from the eponymous region in Guyana.
The name EL Dorado was taken from the legend of a King wearing golden robes and living in a golden city known as Manoa. Although the golden city was never found you can experience Demerara's liquid gold – The El Dorado Rum.
More at www.demeraradistillers.com
EL DORADO 21 Y.O SPECIAL RESERVE
---
El Dorado 21 year old made by Demerara Distillers – Guyana (South-America) is an exquisite rum. In this blend of select aged rums, each of the constituent rums is at least 21 years old. Some are much older and can be as old as 25 years.
The 21 year old El Dorado rum is based on rum from the only operational wooden continuous Coffey still in the world. This still was first erected at the Enmore Estate in 1832.
This drink is best savored on its own, with 21 years in the making it deserves time and indulgence.
Packaging: 0.7 l     ABV: 43%
EL DORADO 15 Y.O SPECIAL RESERVE
---
Demerara Distillers flagship brand, the El Dorado 15 Year Old Special Reserve Rum has been a Gold Medal winner for many years and voted "The Best Rum In The World" at the International Wines & Spirits Competition held annually in London.
El Dorado Special Reserve can therefore be reckoned as the finest 15 year old rum on the market and is designed for long contemplative sipping.
In this blend of selected aged rums, each of the constituent rums is at least 15 year old.  The bold smoky rum is best enjoyed with just a splash of water but will add a rich flavor to almost  any dark rum cocktail.
Packaging: 0.7 l     ABV: 43%
EL DORADO 12 Y.O SPECIAL RESERVE
---
This premium rum from Demerara Distillers Guyana (South-America) shows a distinctive delicate taste and is aged in oak barrels in the company's warehouse for 12 years.
The El Dorado 12 Year Old Special Reserve Rum is blended from aged stocks (the youngest being no less than 12 years old) from the original Wooden Enmore Coffey still, the original metal Diamond Coffey still, as well as from the ancient Port Mourant double wooden pot still which was used to produce 'navy' rum for the English Admiralty.
The depth and body of this matured rum is best discovered when drunk straight or on the rocks.
A rum of superb color, full, fragrant aroma; a sure delight for the most discerning drinker.
Packaging: 0.7 l     ABV: 40%
EL DORADO 8 Y.O
---
An exceptional medium bodied Cask Aged premium Dark Rum.
This 8 Year Old rum is a complex fusion of a full flavored, heavy bodied rum with light-to-medium bodied rums aged in bourbon oak casks – creating a sumptuous smooth sipping rum which can also form the basis of memorable cocktails.
As a testament to the fine quality of the El Dorado 8 y.o Rum it has been awarded the Gold Medal & Best In Class prize at the International Wine & Spirits Competition in London.
Packaging: 0.7 l     ABV: 40%
EL DORADO 5 Y.O
---
A fine award-winning amber hued Cask Aged Golden Rum.
This remarkably developed and complex medium-aged rum has a distinctive delicate taste and is aged for a minimum of 5 years in bourbon oak barrels.
Exceptionally versatile, it can be enjoyed straight, on the rocks or for creating premium cocktails.
It's remarkable quality is attested by the numerous awards won in the past years.
Packaging: 0.7 l     ABV: 40%
EL DORADO 3 Y.O
---
A fine award-winning Cask Aged White Rum
This superbly balanced mixing rum is twice filtered through natural charcoal for great clarity and purity, then aged for at least 3 years in 45 gallon ex-bourbon oak casks.
Its incredibly smooth and unique flavour profile, ideal for all cocktails – especially Caribbean and South American styles – is a product of a combination of the traditional Skeldon and Blairmont marques.
Packaging: 0.7 l     ABV: 40%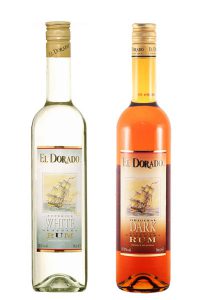 SUPERIOR WHITE/DARK RUM
---
The essential spirit of the Caribbean is captured by this family of El Dorado Superior Demerara rums – drawing on our legacy of tradition, flavour and diversity.
Using the most subtle of distillation techniques, they are refined, matured and blended to a smooth perfection.
Their individual characters range from light and lively to smooth and mellow, offering scope for producing fantastic cocktails – from classic to cool – for every occasion.
Packaging: 0.7 l /1.0 l    ABV: 37,5%