Luxardo is best known in the World for its flagship Original Maraschino Liqueur, but the company produces a wide range of classic Italian liqueurs beyond this, including: Amaretto, Aperitivo, Triplum – Triple Sec, Limoncello, Amaro Abano, Fernet, Bitter, Sambuca, Grappa and many more.
With a tradition dating back to 1821 it's one of Italy's oldest distilleries, a fact which shows in the quality of their spirits & liqueurs.
Also they are the sole producers of the patented Original Maraschino Cherries having their own orchard of over 30.000 trees.
More at www.luxardo.it
THE ORIGINAL MARASCHINO CHERRIES
---
The first Luxardo Maraschino Cherries were produced at the Luxardo plant in Zara around  1905, likely to be the first of their kind in the world.
The Luxardo Original Maraschino Cherries are cherries candied with Marasca syrup, a fruit cultivated and processed by Luxardo for distilling its renowned Maraschino, and for preparing, by infusion, the Cherry liqueur "Sangue Morlacco".
Packaging: 400g
ABSHINTE FATA VERDE
---
Absinthe is a liquor made with wormwood (Artemisia absinthium) and star-anise that dates back to the 18th century. It is a deep green drink with a very bitter taste.
Absinthe was very popular with 19th century intellectuals, poets and artists like Oscar Wilde and Vincent Van Gogh. Besides having a very high alcohol content, absinthe was also said to induce a dreamlike state, enhance creativity and facilitate artistic expression.
By using traditional methods and combining superior quality distillates and macerates of real herbs such as artemisia absinthium and anise, Luxardo created an absinthe that shows it's respect for the original manufacturing process.
Packaging: 0.7 l     ABV: 70%
AMARETTO DI SASCHIRA
---
With its well-rounded taste, it is distinguished from other amaretto because it's slightly dryer with a hint of vanilla. Luxardo is a standout amongst its competitors.
"Deep tawny amber hue. Pungent, attractive sweet almond, caramel, and orange aromas. A viscous attack leads to a full-bodied palate with marked sweetness. Enticing, flavorful finish. Sweet but balanced." HIGHLY RECOMMENDED, Beverage Testing Institute
Best server neat or on the rocks. Great in coffee and international cocktails. Serve over vanilla gelato, on Italian "panna cotta" dessert. Excellent for baking and cheese cakes.
Packaging: 0.7 l     ABV: 28%
AMARO ABANO
---
In this Amaro are infused 7 herbs and roots including cardamom, cinnamon and bitter orange peel. Amaro Abano is a medium bitter, popular in Italy. It is drunk straight after a meal with or without ice to help digestion.
"A little fresh mint, a little grapefruit, a touch of anise and some pine—that's the flavor of this fragrantamaro created on Croatia's Dalmatian coast." – www.foodandwine.com
Amaro Abano is markedly sweet on the palate with complex flavors following the aromas. Very viscous. The finish has an assertive citrus zest quality with a drier character.
Packaging: 0.7 l     ABV: 30%
ANGIOLETTO HAZELNUT LIQUEUR
---
Angioletto is a traditional Italian liqueur tasting of hazelnuts. Hazelnuts are shelled, toasted and crushed, then infused in a solution of alcohol and water. The hazelnut infusion is distilled to produce a natural hazelnut distillate.
A number of natural extracts – including cocoa and vanilla – are blended with the hazelnut infusion and hazelnut distillate.
Luxardo Angioletto is used in a variety of cocktails, in dessert drinks and shooters. It adds a rich, nutty flavor with notes of dark chocolate and vanilla. It is also served straight, chilled, over ice, or with soda or tonic.
Packaging: 0.7 l     ABV: 24%
APERITIVO
---
Proving again that Luxardo is "more than maraschino," this aperitif is a light bittersweet liqueur that bears the same name as the Italian cocktail custom.
Luxardo Aperitivo expresses the rich aperitivo tradition for which it was named. This amari, or liqueur category of Italian bitters, is a well-balanced infusion of herbs, roots & citrus.
The mild alcohol content & bitter orange flavor offers an ideal complement to several fruit juices, wines and Prosecco. The favorite Italian cocktail is the Spritz, or the mix of Prosecco and Luxardo Aperitivo.
Packaging: 0.7 l     ABV: 11%
APRICOT LIQUEUR
---
One of the few apricot based liqueurs in the world.
Apricot Luxardo won the first prize during a competition for a new and most innovative Italian liqueur, held in Rome in 1935. This is why the label states "Liquore dell Lupa", Lupa being the female of the wolf and the symbol of Rome.
It is a liqueur obtained by the infusion of apricots in pure alcohol aged in oak casks.
Best serverd neat or on the rocks. In international cocktails such as Amber Twist, Apricot Cooler, Bossa Nova, Claridge, Golden Screw, Paradise, Resolute, Valencia.
Packaging: 0.7 l     ABV: 30%
BITTER & BITTER BIANCO
---
Luxardo® Bitter is a pleasant aperitif obtained  from the infusion of several fruits and herbs such as sweet oranges, bitter oranges, rhubarb, mint, marjoram  and thyme.
Luxardo® Bitter Bianco comes from a well-balanced distilled infusion of bitter herbs, aromatic plants and citrus fruits in water and alcohol.
Great for mixing, Luxardo Bitter & Bitter Bianco is a key ingredient for many cocktails.
Packaging: 0.7 l     ABV: 30%
LONDON DRY GIN
---
Luxardo London Dry Gin is the result of a very accurate selection of 9 botanicals (Juniper, Coriander, Iris, Angelica, Sedge, Licorice, Cinnamon, Cardamom, Bitter Orange) which are left in alcoholic infusion for 24h in our traditional copper pot stills before distillation. After 19 days of refinement the product is filtered and ready to be bottled.
The actual recipe goes back to the famous Ginepro di Dalmazia, produced by the Luxardo family since the beginning of the 1900's.
The Luxardo Gin is lighter in it's taste having less Juniper aroma and a more Mediterranean flavor. An excellent mixing gin.
Packaging: 0.7 l     ABV: 43%/37.5%
ESPRESSO LIQUEUR
---
Caffè Espresso is a MUST for any well-stocked bar!
A luscious coffee liqueur from Luxardo infused with the best coffees from Central America and Kenya, with the Arabica type predominating.
Great served neat, on the rocks, or with cream as an after dinner drink. Great in mixed drinks, and as an ingredient in international cocktails calling for coffee liqueur: Irish Coffee, Alexander, Black Russian, Surfer, Pousse-Caffé, etc.
Use in desserts and confectionery, as an ingredient for Tiramisu and other coffee flavored gourmet preparations.
Packaging: 0.7 l     ABV: 27%
FERNET
---
A strong bitter amaro, Luxardo Fernet undergoes prolonged infusion of herbs and spices such as licorice, condurango, cardamom, cinnamon, and including the rare gentian and saffron.
Fernet Luxardo is known for its ability to stimulate the digestion. It is more and more used in cocktails thanks to its intense particular flavour.
"Fernet Luxardo, from the Veneto, which gets downright agressive with its herbal qualities and finishes with cleansing menthol and eucalyptus notes." – www.starchefs.com
Packaging: 0.7 l     ABV: 40%
GRAPPA EUGANEA
---
Distilled from the grapes of the Euganean Hills area according to the traditions of the Veneto region.
The stem is lightly pressed, kept cool and quickly distilled to preserve the fresh taste.
The grape varieties harvested are Cabernet Sauvignon, Cabernet Franc and Merlot. A traditional copper pot still is used for distilling this fine quality spirit.
"Unusual citrus, lavender and stone fruit aromas. A viscous attack leads to a medium-bodied palate with great smoothness. Shows very little burn. Neutral, rounded finish." HIGHLY RECOMMENDED, Beverage Testing Institute
Packaging: 0.7 l     ABV: 40%
KIRSH
---
Luxardo Kirsh is a pure cherry distillate ideal for cocktails and cuisine.
The liqueur is distilled from the patented Maraschino Cherries grown by Luxadro in their 30.000 tree orchard.
Packaging: 0.7 l     ABV: 40%
LIMONCELLO
---
Limoncello is a world-renowned Italian liqueur. Luxardo's time-honored production methods of infusing alcohol with peels, pulp and juice, enhances the natural aroma and bright citrus taste of lemons harvested in Southern Italy.
The finish is medium-long, properly juicy and oily and in a word luscious; a superb, understated and classy Limoncello. Luxardo first advertised its Limoncello in 1905.
"Light and nimble on the tongue at palate entry – by the mid-palate stage the tart but not astringent flavor of authentic lemon enchants the taste buds – lovely, balanced and smooth as silk." – F. Paul Pacult
Packaging: 0.7 l     ABV: 27%
MARASCHINO ORIGINALE
---
Luxardo Maraschino Originale is a classic, and the Luxardo family still produces this wonderful liqueur according to the original formula used by Girolamo Luxardo in 1821. The patented, hand-woven, straw-plaited round bottle has become an iconic symbol of the brand.
Maraschino is one of very few liqueurs produced by distillation. It is made from the Luxardo Marasca cherry, a sour cherry variety cultivated exclusively by Luxardo in the Veneto region of Italy.
It is aged 3 years in Larchwood, and the distillate is allowed to mature for one to two years in Finnish Ashwood vats – a wood that does not lend its color even after many years of maturing.
Packaging: 0.7 l     ABV: 32%
MINT LIQUEUR
---
Infused with green mint & peppermint extracts, the Luxardo Mint Liqueur is ideal for adding a refreshing taste to any cocktail or specialty drink.
It can also be served on the rocks as a refreshing appetizer.
Packaging: 0.7 l     ABV: 27%
ORANGE LIQUEUR
---
There are many recipes that call for Orange Bitters, but best known is the classic Martini.
Try a dash in your next Martini and you will never want one without Luxardo Orange Bitters again.
Best served chilled or in classic international cocktails such as the Martini, Cosmopolitan and many more.
Packaging: 0.7 l     ABV: 25%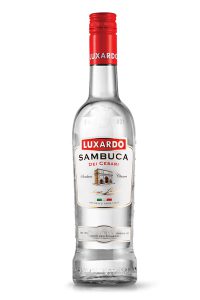 SAMBUCA DEI CESARI
---
Luxardo Sambuca is strictly Italian and produced with the infusion of elderberry and green aniseed.
Sambuca is a sweet but strong liqueur, containing essential oils obtained by steam distilling the seeds of star anise, which are soluble in pure alcohol. A concentrated solution of sugar and other natural aromas is added to this mixture in order to create an excellent tasting liqueur.
Beside the award winning Sambuca Dei Cesari, Luxardo offers a wide range of flavored sambucas such as: Coffee, Cinnamon, Chilly & Spices, Cream, Grenadine, Passione Nera – Licorice, Spiced Apple & Raspberry.
Packaging: 0.7 l     ABV: 38%
SANGUE MORLACCO – CHERRY
---
Luxardo Cherry Sangue Morlacco is a liqueur obtained from Marasca cherry juice, a sour cherry variety exclusively cultivated by Luxardo fermented and matured for two years in oak vats.
"Deep ruby hue. Sour cherry aromas follow through on a lighter palate with sweet red cherry flavors showing a trace of natural tartness." Beverage Testing Institute
Best served neat, at room temperature or with ice, as an after dinner drink. In several classic cocktails, such as the Singapore Sling, Yale, Hollander, Cherry Brandy Flip, the Cherry Cobbler, etc. Use as flavor in confectionery and gelato, over berry fruits and with pure dark chocolate.
Packaging: 0.7 l     ABV: 38%
SOUR APPLE
---
This liqueur is an exceptional mix of invigorating sweet an sour green apple flavors and its vibrant green color reflects the mouth tingling flavor of sharp green apples.
Sour Apple is the liqueur to use in the Sour Apple Martini or Appletini, a New York trend.
Increasingly, bars are featuring apple martinis as house specialties due to popularity with consumers.
Packaging: 0.7 l     ABV: 15%
TRIPLUM – TRIPLE SEC
---
It is difficult to make a good Orange liqueur. Luxardo passes the test with flying colors.
The refined Triple Sec of Luxardo is the result of the distillation of bitter oranges from Curaçao and sweet oranges and tangerines from Sicily, enriched by the delicate aroma of orange blossoms.
Luxardo's Triplum Orange Liqueur is vibrant, sharp and elegantly dry, with ripe flavors bursting from the glass.
"Clear. Subdued nut and orange aromas show a touch of heat. A viscous attack leads to a full-bodied, fiery palate. Hot, sweet finish." – Beverage Testing Institute
Packaging: 0.7 l     ABV: 39%